Nel paesaggio
The dialogue between Remo Salvadori - an internationally renowned artist - and Elio Franzini - professor of Aesthetics at Università degli Studi di Milano – is an important testimony in the notebook Dialogo tra Remo Salvadori e Elio Franzini, published by Corraini Edizioni.
"The secularity of art asks us and offers itself as a guide in the vortex of time" said Remo Salvadori who deeply lives the relationship centered on the dynamics of the primary elements: substance, metal, nature and their cosmological correspondences. "There is no possible judgment of beauty except from the dialog" suggested the same Franzini. From here, we started to understand.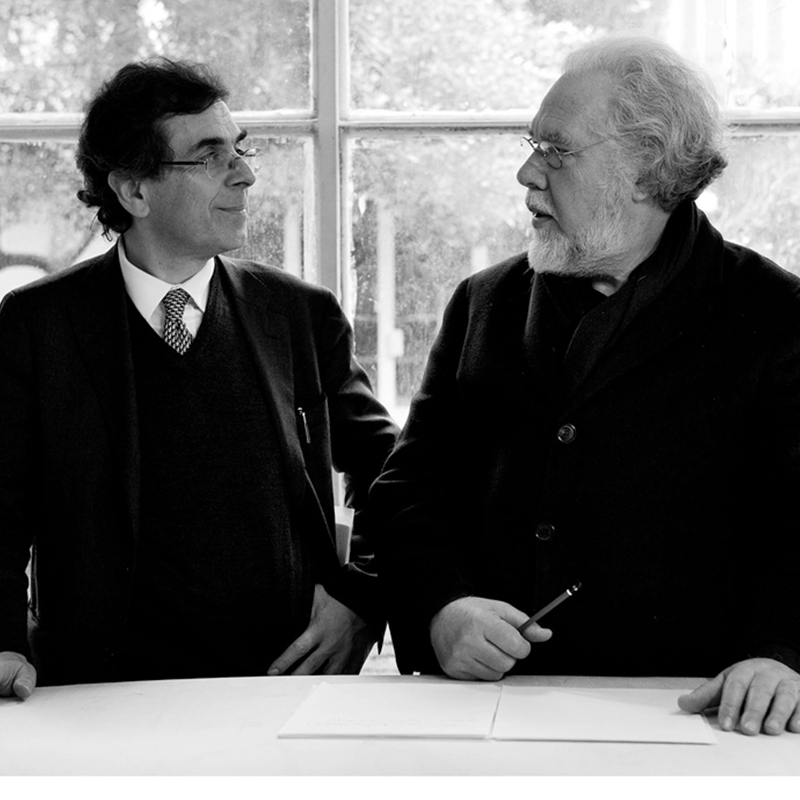 Remo Salvadori and Elio Franzini
The experience of Remo Salvadori, born in 1970 in Cerreto Guidi, began in Florence and continues in Milan, where he settled in the 70s, establishing himself among a generation of artists following the poor art and the conceptual art. In his practice he seems to combine the inclination of the Renaissance alchemist with a modern attitude. The artist focuses on the transition from intuition to creation and to contemplation, without a solution of continuity.
Elio Franzini, born in 1956 in Milan, has investigated on the historical and theoretical front some crucial themes of aesthetics such as artistic creation, the symbol, the image, the constitution of the aesthetic object in time and space. Based on a recognition of the eighteenth-century genesis of aesthetics, he investigated the gnoseological status of the discipline, deepening the cognitive value of the precategorial dimension of experience. This path has found a synthesis in the last phase of his thought, aimed at the definition of a "phenomenology of the invisible".
Nel paesaggio. Dialogo tra Remo Salvadori e Elio Franzini
Author: Matilde Marzotto Caotorta
Published by: Corraini
Pages: 40
Price: €10 VAT included
Date of issue: June 2013
ISBN:  9788875704100