Art & landscape
Enjoy the site-specific works made by international artists for Fondazione La Raia in the estate's vineyards, woods and fields.
Book here a room with a view in Gavi Make sure to benefit the best rate and a 10 % discount on La Raia's wines and products, shopping at Locanda's store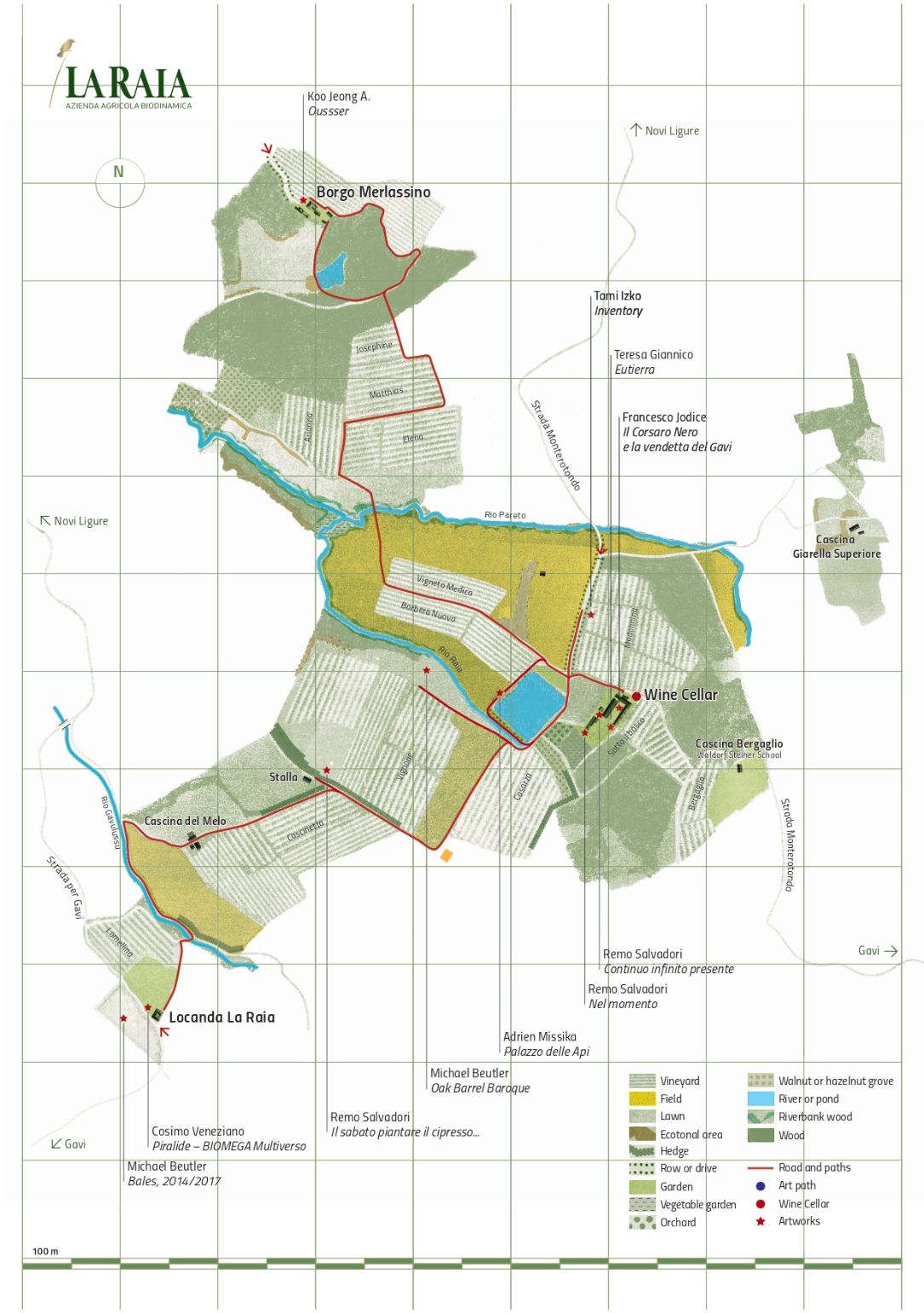 An invite to look at the landscape with special guides
Since 2013 Fondazione La Raia, established by Giorgio Rossi Cairo and Irene Crocco, has invited Italian and international artists to create culture opportunities and give a new identity to the Gavi's landscape through their artworks and contributions.
A pleasant stroll in the vineyards around Locanda La Raia will unveil the works and installations created in the last years.
Three sculptures by Remo Salvadori: Nel momento, a vertical installation made of sixteen tin elements placed on the manor's Southern facade; Continuo infinito presente, a continuous ring made of steel cables, placed in front of the wine cellar; Il Sabato piantare il cipresso…, made of marble, water and essences, is near the Vignone, one of La Raia's oldest vineyards.
OUSSSER by Korean artist Koo Jeong A. is at Borgo Merlassino, and due to its amazing characteristics, it can only be admired in the nights that follow very bright days.
BALES 2014/2017, the coloured plastic balls by German artist Michael Beutler, are placed near the entrance to Locanda La Raia.
Palazzo delle Api by Adrien Missika, a Luserna stone inverted pyramid created to shelter nomad bees and pollinating insects, can be admired near La Raia's lake.
Inside the cellar there is an artwork by Francesco Jodice from the project Il Cavaliere Nero e la vendetta del Gavi, and a sound installation created following the performance of the musical body of Novi Ligure alla Raia, part of the same project. Finally, at Locanda La Raia, Piralide: the emblematic work from BIOMEGA Multiverso, a personal show made by the Cosimo Veneziano at Tenuta Cucco.
In 2021 Michael Beutler has returned to La Raia, creating Oak Barrel Baroque, a small shelter in the form of a votive temple built with wooden beams and staves from barriques at the end of their life cycle. The form of the work suggests the architecture of Palladio and the churches seen on the squares of Italian towns, reproportioned in a single building and placed in an unexpected context.
In 2023 a new work, Inventory by Tami Izko, was inaugurated: the biodiversity of La Raia inspired the creation of this chamber of wonders inside a natural cave where 32 porcelain works, natural casts and manual labor objects are enshrined. 
La Raia continues to be the a gathering place for discussions on the landscape, fostering a new perception of the territory in which we live.