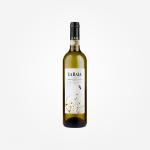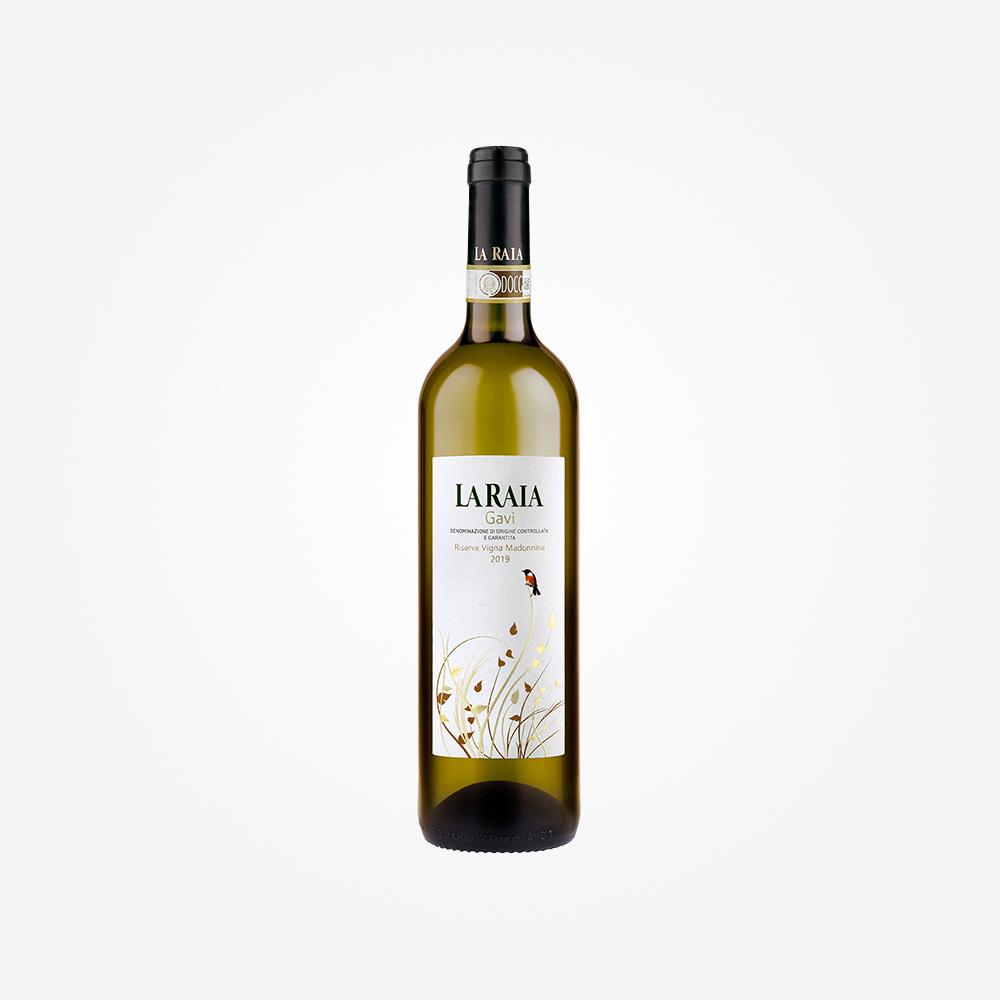 Gavi D.O.C.G. Riserva Vigna Madonnina
Biodynamic Piedmontese White Wine
It embodies the terroir's tradition. Grapes are handpicked slightly ripe, with a golden yellow colouring. A complex aroma of ripe fruit, honey and candied fruit characterizes the wine obtained.

The soil
La Madonnina vineyard within La Raia's estate is situated on a south-east. The calcareous, clayish and marly soil is particularly suitable for Cortese vine farming. As for all of our vineyards, we avoid any kind of fertilizer and chemical products. The soil is planted with green manure – made up of broad beans, peas and clover – which, once trimmed, transforms into fertilizer and humus.
Grapes
Cortese grapes for the production of Gavi Riserva benefit of great thermic ventilation and an ideal microclimate, thanks to their natural exposure. Yield does not go over 65 quintals per hectare. During the maturation phase grapes are selected in the vineyard, allowing to obtain a naturally awesome alcoholic content.
Wine making
Grapes are harvested and handpicked at the end of September. After the selection, grapes are destemmed and delicately pressed. The must obtained is then decanted without adding any oenological additives at a low temperature. Alcoholic fermentation takes place in small stainless steel tanks at a controlled temperature. Approximately 25 days later, at the end of the fermentation, the wine is poured into another stainless steel tank, and there it remains for 6 months, as required by the production regulations. The Gavi docg Riserva is then bottled and continues refining for another six months in the bottle, before being exposed to the market. This refinement procedure results into a long-lived and pleasant to drink wine.
Tasting notes
COLOUR: straw yellow, more or less intense.
AROMA: fine and delicate, with floral hints typical of the Gavi area.
MOUTH FEEL: rich, dry, harmonic, and pleasant to the palate, savoury, with a persistent warm finish.
ALCOHOL CONTENT: 13%
Contains sulphites
Perfect pairing
Excellent with seafood, above all with shellfish of which it brings out the par- ticular taste, and with light first courses and risotto. It is the perfect match also for fresh or semi-soft cheese.
Best served: Between 10° and 12° C.
Perfect storage
Bottles should be stored in a cool dry place, and in the dark, at 12°/15° C.
Awards
Respecting the earth gives great quality. Gavi D.O.C.G. Riserva Vigneto Madonnina has received several awards over the years and we are happy to share them with you.
Vintage 2019
WOW!:

Gold

I vini di Veronelli 2023:

2 stars

Gambero Rosso 2023:

2 glasses

Vitae. La guida vini 2023:

4 vines

I vini di Veronelli 2022:

2 stars

Gambero Rosso 2022:

2 glasses

Vitae. La guida vini 2022:

4 vines

Bibenda 2022:

4 grapes

Vini buoni d'Italia 2022:

2 stars
Vintage 2018
Civiltà del bere 2022:

Medaglia d'oro

JamesSuckling.com:

92 punti
Vintage 2017
I Vini di Veronelli:

2 stelle

Gambero Rosso:

2 bicchieri

Bibenda:

4 grappoli

Slow Wine:

Vino strutturato, arricchito da una piacevole acidità ben equilibrata.

Vitae:

3 grappoli

Vini buoni d'Italia:

4 stelle
Vintage 2016
Gambero Rosso 2019:

3 bicchieri rossi
Vintage 2015
Bibenda 2018:

4 grappoli

Gambero Rosso 2018:

2 bicchieri rossi

Vitae. La guida vini 2018:

Vino di elevato livello

Go Wine:

Cantine d'Italia 2018, Vino da provare
Vintage 2014
Slow Wine 2017:

Fresco alla bocca, rotondo e piacevolmente lungo

Bibenda 2017:

5 grappoli

I Vini di Veronelli 2017:

Due stelle, Vino ottimo

Gambero Rosso 2017:

2 bicchieri rossi

Millesime Bio 2017:

Medaglia d'oro
Vintage 2013
Slow Wine 2016:

Vino Slow, miglior vino dell'anno

I Vini di Veronelli 2016:

2 stelle

Bibenda 2016:

5 grappoli

Gambero Rosso 2016:

2 bicchieri rossi

Vini Buoni d'Italia:

Una buona espressione di freschezza ed eleganza

I vini d'Italia 2016:

4 bottiglie – 16.5/20

Annuario dei migliori vini italiani:

84/100
Vintage 2012
Decanter 2015:

Medaglia di Bronzo

I vini d'Italia 2015, Le Guide de L'Espresso:

Vino di livello molto alto

I vini di Veronelli 2015:

87/100 Vino ottimo

Gambero Rosso 2015:

Due bicchieri rossi

I vini buoni d'Italia 2015:

Quattro stelle

Annuario dei migliori vini italiani 2015:

80/100
Buy the byodinamic excellence
The organic products of the company, the selection of all our wine labels and the chance to receive special invitations. Go to the online shop